Explore the All-Capable 2022 Jeep Compass
For those that need a vehicle that's reliable, a great companion on off-roading adventures, and can seriously deliver in any terrain, the 2022 Jeep Compass is the perfect match. The 2022 Jeep Compass is the best in crossover SUVs, small enough to maneuver through the city streets, yet sturdy and powerful enough to trek through any terrain. The 2022 Jeep Compass can be yours today with a visit to Greenway Chrysler Dodge Jeep Ram of Rome! We'll help you explore the new possibilities for travel in the 2022 Jeep Compass, and get you set up with a crossover SUV to be your companion on those long treks in the wilderness.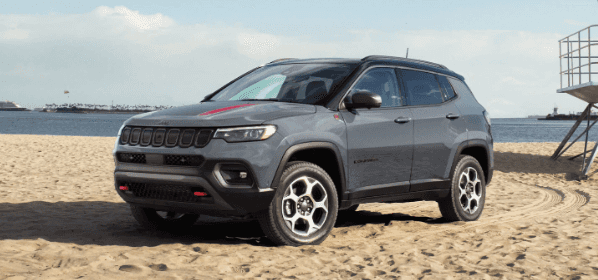 Experience Astounding Capability
The 2022 Jeep Compass is one of the best vehicles for off-roading, with a wealth of features to help you complete your journey no matter the conditions. It is truly made to overcome obstacles, featuring impressive specs for any driver. These specs include:
All wheel drive
9-speed automatic with manual shifting mode
16-valve inline-4 engine
175 lb-ft of torque
180 horsepower
Combined 25 mpg fuel economy
4 x 4 system to help maintain traction in multiple terrains
2,000 lb. towing capacity
In addition to these specs, you can also experience the 2022 Jeep Compass' water fording capabilities and advanced maneuverability. With water fording, you can traverse through puddles up to 30 inches in depth comfortably, so you're never hindered during those surprise rain showers.
Want more power during steep hill climbs and descents? With Hill Descent control, you can keep your focus on steering and getting through the obstacle, while the 2022 Jeep Compass does the rest for you in braking.
Superb ground clearance allow the 2022 Jeep Compass to maintain its distance and clear any debris from the ground, and articulation provides you the most optimal ground-to-tire contact for a smooth ride anywhere.
Stunning Interior For the Entire Family
Jeep has taken what you want and need in a crossover SUV and put its all into revamping the 2022 Jeep Compass interior. You can experience the best of what designers and engineers have created for you, the driver, through features such as:
Available 10.1 inch display screen
Textured fabric mil-bolster
Slim but powerful air vents
Uconnect® 5 for videos, apps, music, and more
Heated front and rear seats
Heated steering wheel
12-channel 506-watt amplifier
Nine speaker system with 8-inch subwoofer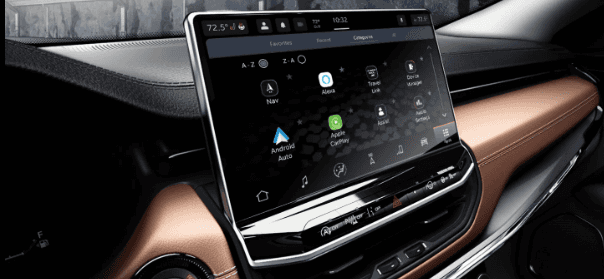 These are just some of the many interior features that make driving the 2022 Jeep Compass a luxurious experience, whether you're commuting to your next business meeting or taking a break from it all in the outback.
Have Peace of Mind in All Driving Conditions
Whether you have to travel through snow, sand, or mud, it's all no problem for the 2022 Jeep Compass. This vehicle comes equipped with a wide range of terrain modes through its 4 x4 system, so you can travel safely through all climates, including:
Mud: The mud terrain mode allows you to trek through muddy waters safely, preventing slipping of the tires, provided the depth is no more than 30 inches.
On-road: The 2022 Jeep Compass has a superb suspension system that allows you to travel safely through black ice, snowy roads, rainy weather, and other hazards on everyday commutes.
Gravel: Electronic brake differentials, traction control, electronic stability control and gas shocks can help you get through most unpaved reading conditions, which can be deceptively simple yet hazardous to travel through.
Snow: The 2022 Jeep Compass offers brake lock differential, antilock brakes and traction control to help you get past blizzards and snowy conditions affecting your drive.
Rock: Skid plates and off-road differentials allows you to move swiftly in some of the most remote conditions on planet Earth, through rocks and off-beaten paths.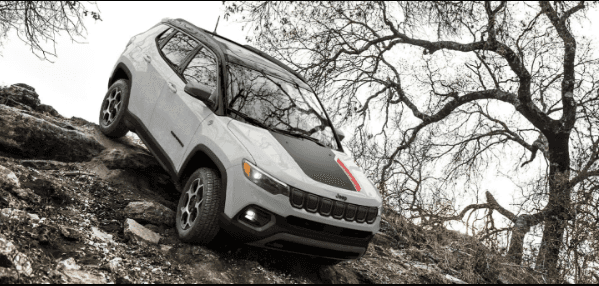 Get the 2022 Jeep Compass Today at Greenway CDJR of Rome!
If you're someone that loves adventure or that craves dependability, there's nothing more dependable or ready for adventure than the 2022 Jeep Compass! If you want to get ready for whatever your next camping trip has in store for you, then visit Greenway CDJR of Rome to get your hands on the new Compass today! Our friendly sales team will get you paired with the best 2022 Jeep Compass or other SUV so you can get out there and adventure this summer and all year-round.
More About Us