Explore The New 2022 Jeep Renegade
If you are shopping around for a new vehicle that is not only modern and sleek in design, but one that delivers top-tier safety features and technologies, the 2022 Jeep Renegade comes in a variety of models. At Greenway CDJR Rome, we have a stock of Jeeps to compare that can help you in making a decision that is right for you.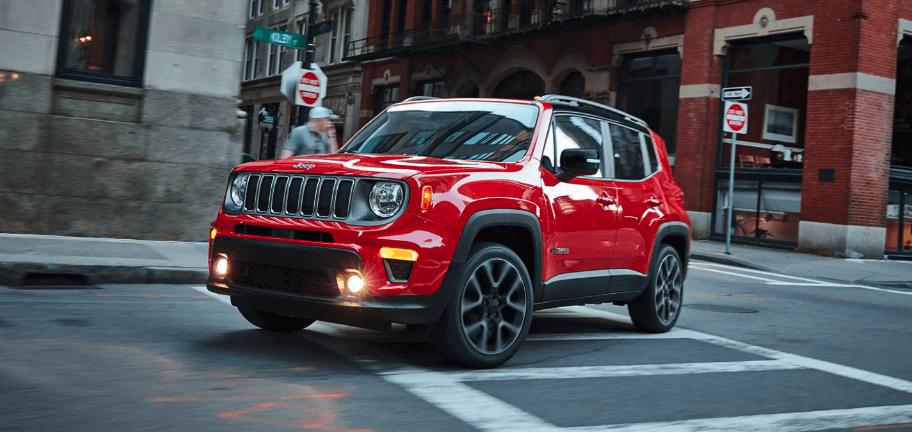 Power and Capabilities
There are a few models of the 2022 Jeep Renegade: Sport, Latitude, Altitude, Red Limited, and Trailhawk. For those who are seeking the most capable and powerful of the Jeep Renegade, the Trailhawk is the way to go. The Renegade features two available 4×4 systems for complete control over how you want to run your vehicle. The 2022 Jeep Renegade is also Trail Rated to provide you with peace of mind before heading off into the unknown or on rocky terrain.
In terms of traction, it doesn't get any better than with the 2022 Jeep Renegade Trailhawk, as it includes an exclusive Jeep Active Drive Low 4×4 system, designed for optimal agility when traversing challenging terrain. Other notable capabilities of the Jeep Renegade that should not be discounted include:
Water fording capabilities: If you enjoy driving through streams or crossing various creeks, you can do so easier than ever in the 2022 Jeep Renegade with its built-in water fording capabilities that include sealed electrical connections, high air intake, and moisture-resistant openings throughout the vehicle.
Turbo engine: With a 1.3L four-cylinder injection turbo engine, the 2022 Jeep Renegade has the ability to receive up to 32 MPG highway miles.
Horsepower: 177 horsepower and 210 lbs-ft. of torque.
Safety and Security Features
Before heading out on your drive, you can do so with peace of mind in your 2022 Jeep Renegade, which comes fully equipped with the following safety and security features:
Blind Spot Protection: Enjoy automatic blind spot monitoring and rear-cross path detection for potential collisions that you may be unaware of behind you.
Parking Assist: Lanesense© Lane Departure Warning technology is included with all makes of the 2022 Jeep Renegade, along with Lane Keep Assist technology.
Adaptive Cruise Control: Take advantage of Adaptive Cruise Control technology to ensure you are never too close to another vehicle or pedestrian on the road.
Full-Speed Forward Collision Warning With Active Braking: With full-speed forward collision warning technology, rest assured knowing that you are protected with active braking enabled. Should you encounter a vehicle, pedestrian, or object in the road that is too close for safety purposes, your Jeep Renegade's Active Braking will automatically activate.
Modern Technologies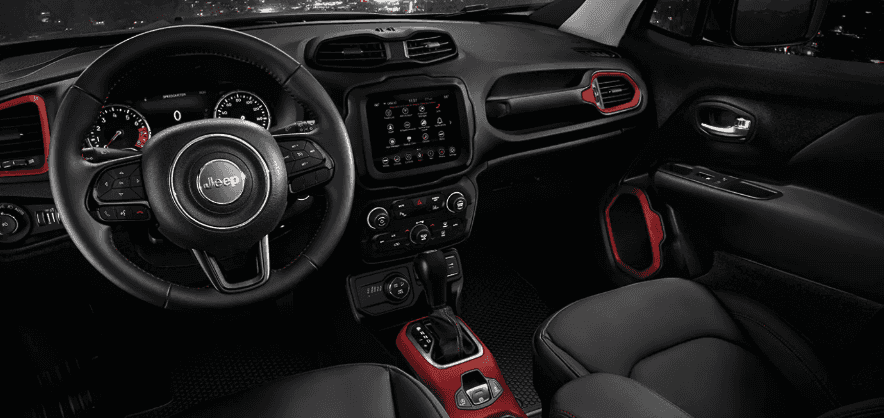 If you enjoy the latest modern technologies in your vehicle, the 2022 Jeep Renegade delivers on all fronts. Not only is the 2022 Jeep Renegade an ideal vehicle for off-roading and exploring the unknown, but it also includes the following modern technologies:
Connected with Alexa: With the Jeep Renegade, it is possible to implement the Jeep Skill available exclusively for Amazon's Alexa. Use the Jeep Skill to start your vehicle remotely, send GPS directions to your vehicle, or even check your Renegade's current fuel levels from afar.
SiriusXM Guardian: Another technology that is compatible with the 2022 Jeep Renegade includes SiriusXM Guardian. With SiriusXM Guardian, start your vehicle remotely, receive ongoing updated vehicle health reports, and send directions to your navigation system with just a few buttons.
Wi-Fi: With the 2022 Jeep Renegade, those who enjoy staying connected to the internet at all times will find themselves pleased. The 2022 Jeep Renegade includes a 4G Wi-Fi Hotspot that is built-in and can provide service to up to 8 devices simultaneously. It is also possible to access the 4G Hotspot within 50 feet of the vehicle.
Built-in Display: Enjoy a 7-inch built-in display to help with navigation and with keeping track of both fuel levels and your speed. The display will also provide both safety and security alerts as necessary for maximum convenience.
Whether you are interested in a Sport 2022 Jeep Renegade, the Latitude, Altitude, Trailhawk, or Limited model, there are plenty of options on the market when it comes to investing in a new 2022 Jeep. For more information and to learn more about our own inventory, visit Greenway CDJR Rome today.
More About Us